In Phu Quy island district (Binh Thuan), the Southern Power Corporation (EVNSPC) has officially put the project "Development and modernization of the source system and electrical grid of Phu Quy island district" into operation and operation.
mounting signs for this project.
.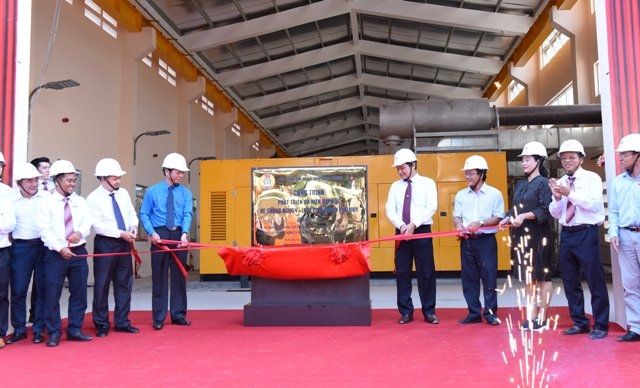 Mounting the signboard of "Developing and modernizing the source system and electricity grid of Dao Phu Quy district".
Project "Development and modernization of power system and grid of Dao Phu Quy district" under the Supporting Program for development of electricity sector reform policy phase 3 (DPL3) borrowed from the World Bank (WB) and sources reciprocal capital EVNSPC, with a total investment of nearly VND 271 billion. The project is invested by EVNSPC and Binh Thuan Power Company manages the project.
Project objectives are to modernize sources and power grids in Phu Quy Island district; Constructing and operating energy sources on the island with modern technology, meeting the optimal automatic operation of diesel-wind sources, and solar energy sources and energy storage systems in the future.
At the same time, the project also develops the power system and grid to meet the increasing electricity demand on the island district, improving the reliability of 24-hour power supply, safety in power supply, and modernization. electricity business, management and operation of the power grid and contribute to ensuring security – national defense of islands and islands, serving socio-economic conditions in Tien Phong island district.
Started construction in February 2017, after more than two years of construction, construction and installation of equipment, the project has completed quality assurance, operating a modern, safe and reliable electrical system. , ensuring 24-hour electricity supply with selling price equal to land price.
On this occasion, the Labor Union of Binh Thuan province officially attached the project "Development and modernization of the source system and power grid of Phu Quy island district" to celebrate the 90th anniversary of the establishment of Vietnam Trade Union (July 28). / 1929 – July 28, 2019) and 65 years of Vietnam Electricity Industry Traditional Day (December 21, 1954 – December 21, 2019).